Angels Beauty Parlour

Calicut
Beauty is something inherent in everything present in nature. We at Angels help you nourish, rejuvenate and celebrate the beauty in you. Established in 1995, we have been providing hair and beauty services in Calicut through well trained beauticians while making sure sincerity is provided in its apex.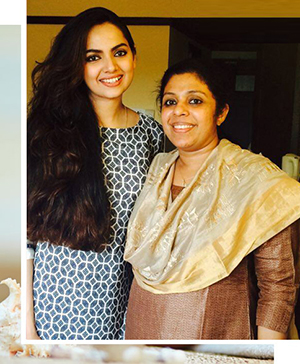 Shimna Thomas is one of the foremost bridal makeup artists in Kerala to bring forth a holistic and avant garde style of makeup. From early on, she had realised the importance a bride gives to looking at her best on the most prominent day of her life. This is what makes her works so fascinating and awe inspiring. Her level of dedication seems unparalleled.
She is an incessant learner of new styles and keeps updating herself with all the latest findings in the field of beauty care and makeup.
Bridal Makeup Package
You Owe Yourself This Moment
Angels will ensure that each of our clients look stunning on their wedding day as in their dreams.
view bridal packages
Thank u sooo much for making me the best on my big day. Am soo happy for d wonderful comments frm ma family n frnds nly bcz of u. I looked lyk d best version of myself and angels was d perfect choice frm beggining to d end. I loved ur style of makeup. U wer professional, responsive , made great suggestions n was sooo easy to deal with..

Theertha Vayalalikkara
Thanku so much shimna chechi for giving me the perfect look for my engagement day.. It give me full confidence and happiness to go out and enjoy my day. You are truly a good makeup artist and a good person. Loved your work. i wish you all the very best for your future works

Emilda Emmanuel
I am glad that I selected Angels for my bridal make up. All my friends and relatives gave me very good feedback about my dressing. Thank you Shimna chechi for making me look awesome for my big day

Nimmi Sreedharan
Hello Shimnachechy, Couldn't thank you enough personally for the wonderful work you did for my wedding.. Im sure amma would have told this to you when you people met. Thanks a bunch.. much love..!!

Maya Madhu
Angels Beauty Parlour truly proved their name when Shimna chechi did the makeover for my sister on her wedding day... The brilliant bridal makeup is definitely second to none. Her 23 years of experience in this field stood up when everyone complimented her work as flawless. Thanks a million!!

Alila
Dear Shimnechi, It was from my dear friend when I first heard about you and believe me, your magical hands have got such astounding reviews that I had made up my mind then and there that it has to be you who was going to do my make-over up on my biggest day. Beyond having magical hands you also have a compassionate heart which understood and agreed to go beyond your actual stint to fulfil my expectations.

Sreeranjni
We chose the services of Angels beauty parlour for my sister's wedding in Calicut. They were highly professional and diligent. Shimna aunty and her assistant complied to our needs for hair style, make up and saree draping. They came on time, and finished all the work perfectly within the given time frame. I highly recommend the services offered by this beauty parlour.

Pooja
Dear Shimna chechi, You made my day. You made me look at my best on the biggest day of my life. Thank you very much. Everyone was complimenting me for the beautiful hairstyle. Thanks alot. I would definitely recommend to my friends and family. I really enjoyed it. You are such an awesome person. Thank you!

Maria
I'm glad that I opted this team to assist my fashion goals on my brother's wedding day. Exceptional service indeed! Thank you Angels.

Sangeetha
Thank you Shimna chechi for make me a beautiful bride on my wedding day. Really appreciate your punctuality and diligence meaning. You are so talented.Best of luck to you in all your future endeavors and thanks again for being part of my big day.

Heera Rose
This is the best place for bridal makeup in Calicut. I am very satisfied with their makeup. The staff is well experienced too.

Neethu
My most trusted place for beauty and makeup is Angels beauty parlour .Shimna chechi has magical touch in her hands and when I selected her for my special day I knew I made the best decision.The way the makeup was done was impeccable and I enjoyed the look with lot of compliments!! I continued my journey with Shimna and Angels with calling in her to help us on my sister-in laws special day .The most trusted names; Shimna and Angels Beauty Parlour for your special day- highly recommended!!

Nisha
Angels beauty parlour is the most recommended salon in Calicut town.I have been visiting this place since my childhood.They have never let me down any time I have made a visit for a service.I recommend this place for the quality of service they provide and friendliness of the staff. Shimna Chechi deserves a special mention for her excellent bridal makeup skills....

Serena
Hello Shimnachechy, Couldn't thank you enough personally for the wonderful work you did for my wedding.. Im sure Amma would have told this to you when you met her. Thanks a bunch.. much love..!!

Maya
Fantastic parlour and amazing customer service. This parlour never disappoints me as it is one of the best in the city.....For a long time I have been doing my haircuts and beauty services from here. Let me just tell you this, you could go anywhere, but you'll end up in Angels, if you'd really want to give your hair what it deserves. They have also taken the time to teach me how to style and keep my hair. The staff at Angels are incredibly friendly and helpful. I highly recommend Angels.

Aysha
They did my makeup for my engagement ceremony and wedding, and I couldn't have chosen better! Everyone at the venue kept saying how beautiful my makeup and hair were !! Shimna chechi is really good at what she does and knows what face, skin and hair she is working on !!! Am also grateful to her entire team for the fantastic job done on my special days ... Keep going !!!

Indu Lakshmi
Thank you Angels Beauty Parlour for setting me up for my big day.....
All the staffs were very kind & the services provided were great.
In my opinion, it is the best Makeover studio in Calicut.
Thank you again!

Hani Rahman
Choosing Angels for my wedding day was one of the best decisions I made.
Shimna chechi did a brilliant job, got lovely compliments..
Definitely recommend!!!

Aswathy